I'm officially back in the Halloween game. I usually make an effort celebrate but I've definitely been on hiatus. Yetis have been on my mind and I recently saw a photo in Wired Magazine of some guy at club with a furry jacket that was all lit up.
This didn't take too long to build. Here's some basic info:I bought 200 LED lights from CoolNeon. I opted for some pre-configured programming to have the lights cycle through different patterns and speeds. To power this many lights required 8 X D batteries. I found an old hiking hip bag (not a fanny pack!) that I had lying around.
I bought 2 yards of 6 pile fabric from Discount Fabrics in Berkeley. I just laid out a pair of pants and sweatshirt on the table on to of the fabric and drew an out line with some extra room. I did this twice, so I had one piece for the front and one for the back. On the back piece, I cut an opening from the neck to the waist where I could get in.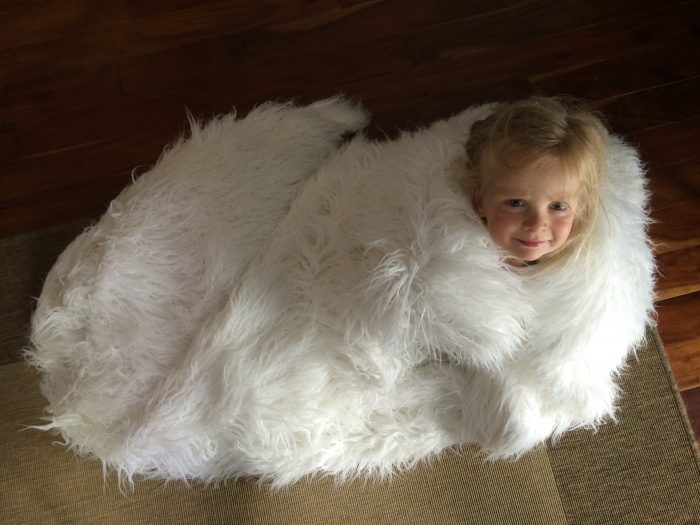 I bought a fat suit from Amazon. I didn't want to be a skinny Yeti at 6′ and 170lbs. I attached the light to the suit by sewing down the ribbon part of the lights. (Note: over time these broke and I ended up using clothes pins, which went a lot faster). One set of lights for my legs and the other for the the body and arms.
For the head, I attached spray painted styrofoam balls for the eyes. To be able to see, I made a giant see-through mouth. I bent the shape out of a coat hanger and attached black stocking/pantyhose.
All in, the cost was around $250 dollars but I hope it will last for years to come. The only downside was that is was hot! The fat suit and fur combo is too much for California.